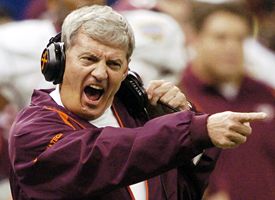 It's Wednesday which means Miami players have already been running their mouths talking trash for Saturday's huge match up between No. 9 miami and No. 11 Virginia Tech.
"(Beamer ball) don't mean nothing to me I don't even know what it is. They are good in special teams, I can say that. If that is what they call Beamer Ball then they are good in special teams, but last year we beat them in special teams and every year we have played them we beat them in special teams, so I guess it is coach Shannon Ball."

-Randy Phillips, CB, Miami
Ahem. Never mind that the Hokies currently rank 18th in punt returns and 11th in kickoff returns.
True freshman Jayron Hosley currently sits at 7th in the nation in punt returns averaging 21 yards per return with one touchdown. Meanwhile sophomore Dyrell Roberts ranks second nationally in kickoffs averaging 48 yards a touch with one touchdown and a second near miss.
Keep running your mouths Hurricanes and buy into your own hype. That noise you hear is the sound of Miami's collective heads swelling.