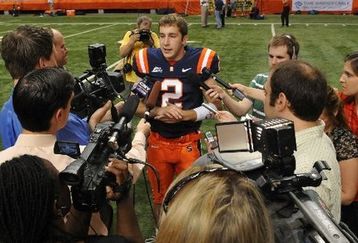 If you want to make money gambling on college football, this is perhaps not your top resource. These are literally my quick picks. I'm shooting from the hip and trusting my gut. I'm picking a number of games each week at the last minute that I find to be interesting match ups. Here's the first set. Thank goodness for college football.
No. 16 Oregon @ No. 13 Boise State
Don't adjust you television set for this one. Oregon's awesome/terrible uniform combo's on the blue turf of Boise State are sure to provide retinal damage. This is a tough environment and Oregon has a new coach.
Boise State Wins
Minnesota @ Syracuse
Greg Paulus makes his football debut for the Orange against a very game Minnesota ball club. There is reason to be mildly optimistic for Syracuse this season, but only mildly. They'll win more games than in recent seasons thanks to Mike Krzyzewski.
Minnesota Wins
No. 13 Georgia @ No. 9 Oklahoma State
The Cowboys are the trendy pick to win the Big 12 and make some national championship noise. Meanwhile, no one is talking about Georgia, presumably because they have to replace no.1 NFL draft pick Matthew Stafford. Joe Cox is no slouch though.
Georgia Wins
No. 20 BYU @ No. 3 Oklahoma
The Sooners will be without star tight end Jermaine Gresham who suffered cartilage damage in his knee. BYU and quarterback Max Hall are a tough opener for OU, but the overall talent discrepancy will prove noticeable in this one.
I failed to initially point out that this game is being played in the new Dallas Cowboys stadium.
Oklahoma Wins
Maryland @ No. 12 California
This is a more interesting game than you might think. Cal has everyone talking Heisman for running back Jahvid Best, but Maryland is a tricky opponent. Home field is nice though when it's 3,000 miles away.
California Wins
Then we look at two Labor Day match ups.
I'm taking
Florida State
over Miami and the
'Nati
over Rutgers (That's the Bearcats from Ohio).