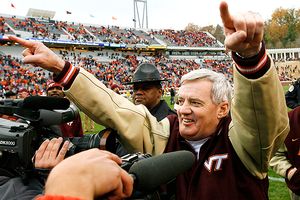 The 2009 Virginia Tech Hokies will finish their season where it began, playing an SEC team in the Georgia Dome in Atlanta.
Since they last met in the 1994 Gator Bowl when a young quarterback named Peyton Manning led Tennessee to a decisive victory, fans of the Hokies and Volunteers have been clamoring for a rematch.
The two fan bases have been intermingling for years and Hokies everywhere would love nothing more than regional bragging rights heading into the new year.
On paper, this may or may not appear to be an exciting match up. That all depends on your preferred brand of football.
This game matches two of the best defensive minds in football in Monte Kiffin and Bud Foster.
Despite Kiffin's NFL background, the two coaches employ very similar defensive styles.
Both have aggressive, attacking defenses designed to hit the ball-carrier with multiple defenders with the goal of creating a turnover. They both use a myriad of coverage looks that have confused more than a few opposing quarterbacks.
Obviously the big name of Tennessee's unit is All-everything safety Eric Berry.
The 2009 Thorpe award winner is the nation's top defensive back, but he doesn't really play like one.
Berry will drop back in coverage, but he also will play up near the line like an extra linebacker and if Tyrod Taylor has any success running the football, don't be surprised to see Berry spy him.
Berry isn't the only one Tech has to look out for on defense.
Senior Dan Williams is a 6'3", 327-pound handful at tackle. He's by far the largest defender on an undersized defensive line. What the Vols lack in size, they make up for in speed.
Chris Walker is a playmaker at defensive end, leading the team with 8.5 tackles for loss and six sacks.
Despite those players, the Volunteer defense isn't without weakness.
Tennessee is on their third middle linebacker of the season, losing the first two to injury.
Redshirt freshman Herman Lathers has been filling the middle down the stretch. In his four games as a starter the Vols have allowed just over 213 rushing yards per game.
That likely has the Hokie offensive lineman and tailback Ryan Williams licking their collective chops.
The Hokies should be able to run the football with Williams and Taylor, and there will be opportunities in the passing game.
The Volunteer schemes lend themselves to allowing short passes, something the Hokies have been improving as the season has progressed. A few well-timed screen passes would serve Tech well.
The Hokies will also look to challenge Tennessee down the field when Berry is playing close to the line. If Tech can hit a couple of big-gainers, they stand a terrific shot at winning the game.
The Volunteer offense has its share of weapons as well.
Senior quarterback Jonathan Crompton struggled at the start of the year, but recovered to have a very strong season. Crompton threw for over 2,500 yards with 26 touchdowns and 12 interceptions.
Crompton's favorite target is who has 41 catches for 610 yards on the season, but the Vols have eight players with at least 10 catches on the year. Crompton clearly likes to spread the ball around.
Montario Hardesty is a strong runner who exhibits both power and speed. On the year, Hardesty rushed for 1,306 yards and 12 touchdowns.
If there's anyone happy about the bowl game break, it's Hardesty. In Tennessee's final two games of the regular season, he carried the ball 71 times.
The Hokie run defense improved dramatically as the year progressed. Pass defense has been a bit more inconsistent and won't be helped by the absence of starting corner Stephan Virgil who was declared academically ineligible for the game.
Either Cris Hill or freshman punt returner Jayron Hosely will fill in for Virgil. It's also possible both will play as Hill struggled in the game he started earlier this season against Marshall.
Look for Crompton to test the Hokie pass defense early and often. The weak spot is right down the middle as Alabama can tell you. The Crimson Tide attacked free safety Kam Chancellor time after time and exploited the weakness quite effectively.


PREDICTION
Under Frank Beamer, Virginia Tech is a miserable 2-11 playing in domes. Tech is 0-2 in Atlanta this season and has never won back-to-back bowl games during the Beamer era. Of course, Lane Kiffin hasn't won any bowl games and it's difficult not to weigh his lack of experience in bowl preparations when picking a winner here.
The Hokies have laid a few eggs in their last couple games against an SEC opponent, and even though the Hokies are a better team on paper, Tennessee is a much better club than their 7-5 record would indicate.
My heart, my college degree and the majority of my wardrobe tell me the I love Virginia Tech and the Hokies can pull this one out. My brain on the other hand tells me that until they prove they can beat an SEC team on a big stage, it's a risky pick.

Tennessee 24

Virginia Tech 21