Virginia Tech football has in recent years earned the unfortunate distinction of being an excellent program that wilts under the pressure of high expectations.
Partly because of that reputation, and partly because Tech is breaking in a new quarterback, the Hokies start this season ranked 13th and largely as an afterthought in the race for the national championship.
That's just the way Frank Beamer likes it, and as the second winningest active coach in college football (thanks coach Tressell!) begins his 25th season as the head man in Blacksburg, the sky's the limit for his talented team.
The biggest question mark resides under center in the form of the enormous redshirt sophomore Logan Thomas. Thomas measures in at 6'6", 254 pounds and caught a touchdown pass last season, but saw limited time at quarterback.
Thomas is a physically gifted player good enough to log time at tight end before becoming a QB, but this season will be a learning experience for him and mistakes will happen.
Inexperience is a concern, but Frank Beamer really likes Thomas.
"To me, he's just got it," Beamer said recently. "He's got a lot of the same qualities Tyrod has. He's smart, competitive, got great character, is a great leader – and he's about 4-5 inches taller. I think he's got some good players around him, which really helps. So I think he's going to do very well."
One enormous advantage Thomas has over most first year starters is a talented veteran receiving corps. Seniors Jarrett Boykin, Danny Coale, Dyrell Roberts and junior Marcus Davis all return.
Boykin needs just 149 yards this season to become Tech's career leader in receiving yards and three catches to become the career leader in receptions.
Roberts is poised to become Tech's all-time leader in kick return yardage and Coale has a knack for making plays when the Hokies need it most.
While there are questions at quarterback one thing is certain, the nation will know the name David Wilson by the end of the season. The junior running back is one of the fastest players on the team and a legitimate threat to score every time he touches the football.
Wilson was overshadowed last season behind backfield mates Ryan Williams and Darren Evans, but this year he's the main attraction.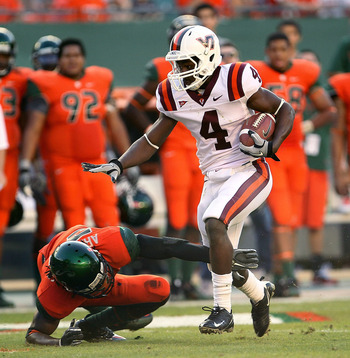 He looks to add to his already legendary status in Blacksburg. Wilson is known for his ability to do consecutive backflips and for catching rabbits (no,
seriously
). He runs a 4.29 40-yard dash and can dunk a football over the goalpost backwards from a dead stop.
Simply put, the kid's an amazing athlete and a legitimate candidate for the Heisman Trophy.
Depth behind Wilson however is a bit of a question mark. Senior Josh Oglesby switched back to tailback from fullback and will likely get most of the reps after Wilson.
Not to be forgotten is the speedy redshirt sophomore Tony Gregory coming back from a torn ACL. Gregory averaged 4.4 yards per carry in limited action last season but has a nice upside.
As for Bud Foster's unit, the group is very young but looks to improve on a solid effort last season.
Sophomore Kyle Fuller and junior Jayron Hosley return as the top corners. All-American Hosley is one of the top defensive backs in the nation totaling 9 interceptions last season and posing a major special teams threat as a punt returner.
One subtle change in the defensive lineup has last year's starting free safety Eddie Whitley moving to Tech's rover position.
Rover gives smart, instinctive players more freedom to make plays. As Foster describes it's more of a "free hit" position.
The Hokies will start several young defensive ends. Redshirt sophomores J.R. Collins and James Gayle are projected to start backed up by redshirt sophomore Tyrell Wilson and redshirt freshmen Zack McCray and Duan Perez-Means.
No matter the personnel, there are only three certainties in life: death, taxes and the fact that Bud Foster will have a good defense.
My typical unbridled optimism regarding Hokie football is absent this fall. Perhaps I'm getting older and more cynical (yes) or maybe I'm just waiting for Tech to actually exceed my expectations for the first time this century (also yes) but this year I'm more cautious in my prognostications.
I fully expect to see the Hokies in the BCS, potentially even as the ACC's first at-large berth.
I tend to think the Hokies will lose at some point, most likely at Georgia Tech on a Thursday night in November. A loss could also come to Florida State in the ACC Championship game, though I'm less willing to drink the FSU Kool-Aid than the fools at ESPN.
How quickly people forget that the Hokies beast the Seminoles in last season's ACC Championship game. The road to the BCS runs through Blacksburg.
PREDICTION
I look for Tech to produce a 12-1 regular season and no worse than 11-2. Frankly, with the schedule the Hokies face, much less would be a significant disappointment even with a new, unproven quarterback.
Of course, most importantly for this blog I categorically predict Virginia Tech will once again outperform Notre Dame. It should be closer than recent seasons, but the Hokies have too much talent not to win more games than the Irish.