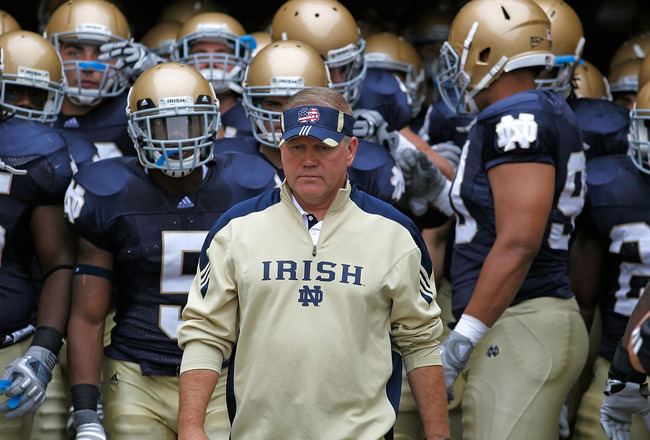 In less than a month Notre Dame Stadium will swell to capacity with all 80,795 fans anxious, eager and perhaps even a bit nervous about the official kickoff to the 2011 season for the Fighting Irish. Unlike previous years, there are no rumors of coach firings or hirings, but that does not mean the newest installment of golden domers are void of drama and national intrigue.
To be sure, there are several stories circulating about Brian Kelly's program throughout the national media to date, including
Michael Floyd
and his DUI situation, the quarterback derby and lack of depth at running back. This sneak peak preview of what 2011 will mean to Fighting Irish football fans will cover these and more. This obviously is by no means going to be gospel, but
last year's prediction
was only one game off so take that for what it's worth.
Consistency
In year two of the
Brian Kelly
era the modus operandi is consistency. At a thirty-thousand-feet view, the Fighting Irish program is equipped with consistency across the board: game plans, players (17 returning starters) and perhaps most importantly coaches (all retained from last season).
Kelly has remarked how big of a deal it is now that they have had a year under their belt learning the ins and outs. From his
opening season press conference
before the start of fall camp:
Certainly if you look at our football team and the way we came together at the end of the year, a lot of people would say, 'That's the momentum that you want to carry.' I think what's happened more than anything else is when we come into this camp now, we know our football team so much better. I think year two is a year where you're not as concerned about what your personnel are going to do. You know your players. You know what to expect. They know what to expect. It allows you to get to football. It allows you to get to the fundamentals of the game. It allows you to start to look at your scheme particularly situationally. Those are things I couldn't talk about at this time last year. I was talking about learning the names of our players, knowing their strengths and weaknesses.
What's the difference between this press conference and last year? I think more than anything else, our football team knows what's expected of them on a day to day basis. What's the strength of this team? They know what to expect from us and we know what to expect from them.
Comments from players reinforce those sentiments from the start of fall camp and the attitudes are much more confident this season as opposed to last. Rather than players and coaches learning each other's names they are now learning intricacies of the system Kelly is establishing. Instead of teaching fundamentals coaches are enhancing the fundamentals base for veterans while also being able to count on them to fortify the basics with the underclassmen.
Some units forged cohesion as the season wore on, such as the offensive line, which returns all but one starter. Without a freak injury to QB
Dayne Crist
the offensive line might not have jelled as well as they did (more on the injury and the controversy it has created later in the preview). Forced to play a true freshman QB (Notre Dame does not officially redshirt), Coach Kelly resorted to a much simpler playbook and fewer passing situations. As a result, the ground game took off over the last four games with then freshman
Tommy Rees
at the helm.
Another unit that saw remarked improvement and consistency was the entire defense. Few defenses put up better numbers than the Irish did in their final four games. Over the last 15 quarters of the year they allowed just one offensive touchdown, and that was a fourth and goal after USC recovered a fumble inside the red zone. Moreover, they improved from 77th to 50th in total defense and from 62nd to 26th in scoring defense
over those last four games
.
In 2010 the Irish were able to play hard for four quarters for the first time in years. Director of Strength and Conditioning
Paul Longo
was instrumental in building that stamina by developing plans both on and off the field to maximize the endurance and power of his athletes.
If you recall, the Irish teams under the Charlie Weis era were infamous for coming out of the gate strong but collapsing both late in games and late in the season. Case in point, when
Notre Dame manhandled Utah 28-3
on November 13, 2010 it was only the second Irish win in the month of November since 2008. Moreover, it sparked their first undefeated November since 2005.
For the Irish to reach their goal of a BCS game this year they will have to continue to harvest the traits they honed over the final stretch of 2010. If there is any key to Irish success in 2011 it is consistency.
Quarterback Controversy
After two weeks into fall camp the Irish were no further along in the process of naming a starter for the September 3 opener against South Florida than they were in at the same time in 2007. During that season, Charlie Weis was toiling between Demetrius Jones, Zach Frazer, Evan Sharpley and Jimmy Clausen. Weis ultimately opted in favor of Jones for his opener that year against Georgia Tech and tried to force an option/spread style offense on a team nowhere near equipped to execute.
This time around, the Irish are fully able and prepared to execute the spread offense and even have more than one option to pick from. Sr. Dayne Crist is viewed as the incumbent starter but he was in a tight battle with another incumbent in So.
Tommy Rees
.
Crist suffered a second season ending injury in as many seasons when he went down against Tulsa on Halloween last year. Enter then true freshman Tommy Rees in his first major action of the season (he entered when Crist sat a few quarters against Michigan at home, threw a pick and promptly was benched). Although the Irish wound up losing to the Golden Hurricane, Rees managed to lead them onward to victory in the final four games of the season (Utah, Army at Yankee Stadium, at Southern Cal and Miami in the Sun Bowl).
According to Brian Kelly, however, the
quarterback race was still very close
between the two gunslingers vying for the starting role as the Irish entered their final week of practice before game week.
Today, it was announced that
Crist earned the starting role
with a slight nod over Rees.
Regardless of who the starter is between those quarterbacks playing time is likely to be shared in some capacity with two underclassmen: So.
Andrew Hendrix
and Fr.
Everett Golson
. Both young quarterbacks showed signs of brilliance during the spring game, especially with their ability to pose as running threats to the defense.
Kelly has also publicly stated he
feels confident
in each of his quarterbacks. While the upperclassmen have clearly separated themselves, Hendrix and Golson have shown they are capable of handling bits and pieces of the offense meaning they likely will bring in during certain situations.
Michael Floyd Status
Toward the end of last season all indications were that then Jr. WR Michael Floyd would forgo his senior year to enter the NFL draft. Even in an injury-plagued career at Notre Dame he had already put his name atop nearly every major receiving record at the school. He is first in receiving touchdowns (28) and second in career receptions (171). What more was left to accomplish?
In a
decision that surprised many
outside the program Floyd declared he would return for his final year to complete his degree and gain more experience. Unfortunately, he thereafter
made another shocking decision
when he decided to drive while under the influence of alcohol - an action that left his future under the dome in doubt. His third run-in with the law due to an alcohol related offense was no laughing matter, as Brian Kelly and the Notre Dame administration pondered how to enforce the proper punishment.
Kelly believed Floyd would not learn anything from a game suspension, so instead of going that route he gave Floyd two options: clean up your act and change yourself as a person or no longer be a member of the team. Floyd chose the former route and had a laundry list of items to check off before Kelly would
fully reinstate
him to the team.
There is no margin for error anymore with Floyd, but from how he has handled himself off the field ever since the incident it is evident, his focus is on making better decisions. It also helps that he was humbled and embarrassed by the whole experience.
I embarrassed myself, my family, the university, my football team and many more people. I know it will take time to earn the trust and confidence from everyone I let down last spring but I am prepared to do so and will strive to become not just a leader on the team again, but one also in the community.
If he can avoid injuries unlike his previous three years under the dome the Irish offense will be able to capitalize on not only his abilities but also the other skill position players such as WR
Theo Riddick
, RB
Cierre Wood
and WR
TJ Jones
who will each benefit from inevitable double teams on Floyd.
Defend Your Turf
The double entendre here is manifested by two key elements of defense that the Irish need to solidify in 2011: rush defense and winning games at home.
Starting with the rush defense, this is a unit that finished 50th against the run last year. Nose guard Ian Williams played a significant role in helping the Irish improve from 89th in that category in 2009. He is gone now, though, fighting for a spot with the
San Francisco 49ers
so the Irish have a big hole to plug in the middle of their 3-4 line.
To remedy the situation, a tandem of talent both used (Sean Cwynar) and unused (Louis Nix) talent will help fill the void left by Williams' absence. For the first time in what seems like decades, the Irish defense will have quality depth on its line. Even though Nix has not yet seen game action, he already is legendary amongst Irish faithful for having committed to team
while it was without a head coach
. Credit Tony Alford, who was retained by Kelly, for his Herculean efforts in keeping the gas on Nix even though he was unsure if he would be kept on board.
On the ends, Kapron Lewis-Moore and Ethan Johnson provide experience and a wealth of ability. Together the veteran duo will provide a stable foundation that is only enhanced by two mammoth and quick freshmen in
Stephon Tuitt
and
Aaron Lynch
. Both Tuitt and Lynch were pulled from the fertile SEC country and turned down offers to play in the famed conference for the opportunity to don blue and gold. Combined, the four defensive ends represent the level of depth and talent that Brian Kelly understands is necessary to compete for national championships.
The heart of the defense lies with the talented linebacking corps headlined by
Manti Te'o
. From the day he stepped foot on campus Te'o was an instant impact player, even though it took him a few games to crack the starting rotation his freshman year. With Te'o leading the charge the rest of the unit will have to help alleviate some of the pressure on Te'o after he recorded a team high 133 tackles last year.
Darius Fleming
,
Dan Fox
,
Carlo Calabrese
and
Prince Shembo
all provide valuable experience for the unit and should be used somewhat interchangeably throughout the season. Stopping the run boils down to their ability to make plays while offenses focus their attention on Te'o.
Moving on to the other 'defense' Notre Dame needs to employ this year, the Irish simply must win more home games. It
has not been since 1998
that the Irish, under Bob Davie's tutelage, finished with an undefeated season at home. Prior to that, it was 1988 during
Notre Dame's most recent national championship season
under Lou Holtz.
A typical tough home slate awaits the Irish with bouts against South Florida, Michigan State, Air Force, Southern Cal, Navy and Boston College inside Notre Dame Stadium. A neutral site home game against Maryland at FedEx Field is also in store. While the Irish have an off chance of being favored in each of those contests, none of them will be a walk in the park.
In order to compete for a national championship teams essentially need to win all of their games. A few slip-ups could be overcome but the few 'acceptable' losses are either at the beginning of the season or on the road in a tough environment. Notre Dame Stadium used to be one of the most intimidating places to play but it has been hard to sustain any level of fear in the eyes of opponents when winning has become much easier. Look no further than recent losses to Connecticut, Syracuse, Air Force and Navy in support of these claims.
Defend your home turf and the path to championship-level success becomes much more attainable. Notre Dame has the potential to reach a BCS game in 2011 if they combine the right proportions of the keys mentioned above.
2011 Predictions:
1) Notre Dame vs. South Florida, September 3 at 3:30p EST on NBC
First game of the year means that no one, not even the coaches, knows how the players will react. Skip Holtz, the son of Irish coaching legend Lou Holtz, leads South Florida. The younger Holtz still has his team in rebuilding mode just like Notre Dame's Brian Kelly, but the Irish have too much talent not to squeeze by the Bulls. Regardless of who the ND starter is (likely Dayne Crist) it will be the stout Irish defense that is the difference maker in this contest.
Result: Irish 27, Bulls 13
2) Notre Dame at Michigan, September 10 at 8p EST on ESPN
Why not celebrate two newly minted coaches with a special throwback game 'Under the Lights' in the first ever night game at the Big House? Kelly is one season Brady Hoke's elder and that will play a pivotal role in the game's outcome. Hoke comes from San Diego State where he nearly defeated the Irish in 2008 with far inferior talent. Now with more talent and weapons at his disposal he should have a serious shot at winning this one. But don't discount who was coaching the Irish in '08 and how putrid their defense was. In its second year under Defensive coordinator Bib Diaco the Irish defense needs to continue improving from its remarkable close to '10. Speaking of defenses, the Wolverines still have several issues to fix in that department, which winds up being the deciding factor in this one. The Irish win and look good doing it, too.
Result: Irish 35, Wolverines 24
3) Notre Dame vs. Michigan State, September 17 at 3:30p EST on NBC
When the Spartans come to town seasoned Irish fans become nervous.
Michigan's 'little brother'
has controlled the series at Notre Dame over the past decade with only a few slip ups. Mark Dantonio had to employ some trickery in OT to help his team pull out a victory and might have to do so again this year. Riding high off of the emotions from the win in the Big House the Irish come out flat and it costs them. It will be a tight matchup but the edge goes to the Spartans who have more experience in Dantonio's system than the Irish in Kelly's system.
Result: Spartans 33, Irish 30
4) Notre Dame at Pittsburgh, September 24 at noon EST on ABC/ESPN/ESPN2
Motivated by the loss the prior weekend the Irish come out looking for payback in a focused effort on the ground. Notre Dame puts up the most rushing yards recorded for the team since Julius Jones was in school. While none of the Irish backs will eclipse his outstanding mark set in '03 at Heinz Field it will be an all out ground attack. Throw in a little play action and the Panthers, who are breaking in a new coach, are simply overmatched.
Result: Irish 42, Panthers 21
5) Notre Dame at Purdue, October 1 at 8p EST on ABC/ESPN/ESPN2
Boilermakers head coach Danny Hope, aka
Wilford Brimley
III, is on a short leash with his university. He has had nowhere near the level of success as his doppleganger predecessor Joe Tiller and that's not saying much. Another night contest for the Irish leaves their opponent wishing they never turned the lights on. On 'black and gold' night the Boilermakers return to their homes feeling blue.
Result: Irish 49, Boilermakers 17
6) Notre Dame vs. Air Force, October 8 at 3:30p EST on NBC
With a bye week looming in the near future the Irish could potentially be distracted in this contest. Any cause for concern among Irish faithful should be dissipated by the fact that the Falcons will be coming off an emotional rivalry contest with Navy. Notre Dame will overwhelm the Falcons from opening kickoff.
Result: Irish 35, Falcons 14
7) Notre Dame vs. Southern California, October 22 at 7:30p EST on NBC
A rare home night game provides the backdrop for the Irish to do something they haven't even had an opportunity to do in years: beat the Trojans in consecutive attempts. South Bend will be emotionally charged and rested for this one coming off a bye. Lane Kiffin and Brian Kelly are each in year two and while the jury is still out on both programs the Irish appear far better equipped for success under Kelly's leadership than Southern Cal under Kiffin's. In fact, Kiffin continues to be distracted by his previous endeavors where his work is being contested (Tennessee). Notre Dame will be coming off a bye and it will show in their preparation and attention to detail. It will not be as close as the matchup won by the Irish at the Coliseum last November.
Result: Irish 28, Trojans 17
8) Notre Dame vs. Navy, October 29 at 3:30p EST on NBC
It's hard to imagine, after three lackluster performances in the past four years, that Notre Dame used to own the series against the Midshipmen. After winning 43 in a row the Irish have now succumbed to a dreadful 1-3 showing in recent seasons. What is more disappointing is the manner in which the Irish have competed in those contests. Last year, Diaco's defense was torn to shreds. Although it proved to be a turning point for the Irish defense they would much prefer to consider that a lesson learned rather than subjecting themselves to that pain once again. It is a distinct possibility that the Midshipmen will emerge victorious in this one with the Irish coming off an emotional game the week prior.
Result: Midshipmen 28, Irish 24
9) Notre Dame at Wake Forest, November 5 at noon EST on ESPN2
The Demon Deacons will be jazzed for this rare visit from the Fighting Irish. Aside from the excitement about the game, though, the Demon Deacons will have little to be excited about once the game is over.
Result: Irish 45, Demon Deacons 10
10) Notre Dame vs. Maryland (FedEx Field, MD), November 12 at 7:30p EST on NBC
Continuing the tradition of neutral site 'home' games, the Irish square off against the Terrapins at the home of the NFL's Washington Redskins. While not as entertaining as the pomp and circumstance surrounding last year's neutral site game at Yankee Stadium this will yield a similar result for Irish fans.
Result: Irish 31, Terrapins 20
11) Notre Dame vs. Boston College, November 19 at 2:30p EST on NBC
Boston College is often
subjected to criticism and many jokes
from Notre Dame students, alumni and fans alike. Without question, though, the Eagles have been a thorn in the sides of the Irish numerous times throughout the history of the 'Holy War.' Notre Dame easily handled a dazed and confused Boston College team in Chestnut Hill last year. Don't expect this season to be any different.
Result: Irish 27, Eagles 13
12) Notre Dame at Stanford, November 26 at 8p EST on ABC/ESPN/ESPN2
Jim Harbaugh is no longer with the Cardinal after departing for the San Francisco 49ers. Despite his departure, Heisman candidate Sr. QB Andrew Luck returns to lead a dangerous Stanford team. The Cardinal are in everybody's book as a pre-season top 10 and in some cases top 5. South Bend played witness to a blowout Cardinal victory last season and even with Harbaugh's leadership gone this will be a tough matchup for the Irish. Stanford plays the kind of smash-mouth football that Notre Dame is on the verge of attaining and aspires to enforce. In one of the few sellouts in Palo Alto Notre Dame will put on a show before ultimately falling to the more advanced Cardinal.

Result: Cardinal 35, Irish 28


Final Thoughts
Domers are hoping that this will be the year they finally return to a BCS game. While it is possible the most likely outcome is an upper-echelon bowl berth, such as the Champs Sports Bowl, as the Irish still do not have all of the right pieces to consistently compete at the highest level. They may surprise and delight but a realistic outlook on what 2011 has in store for Notre Dame is a 9-3 record with a bowl berth and, potentially, win in the Champs Sports Bowl.