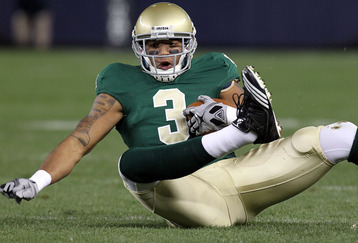 Notre Dame football opened spring practice today with a notable returning star missing from action, for the foreseeable future I might add.
Early Sunday morning, rising senior WR
Michael Floyd was arrested
for a DUI. He failed several sobriety tests and blew a 0.19 blood-alcohol content level, more than double Indiana's legal state limit of 0.08.
Floyd was coming off a successful season for the Irish which led him to contemplate leaving school early for the NFL draft. His draft stock was not as high as he had hoped it would be, though, so he
opted to return for his senior season
at Notre Dame this upcoming fall. He thought that he would not only be able to improve his draft status but also aspired to bring Notre Dame to a BCS game and, of course, finishing his degree.
All of those hopes are temporarily on hold now as Irish Head Coach Brian Kelly suspended Floyd indefinitely. In fact, Floyd's name is nowhere to be found on the
newly released spring roster
issued by the Irish.
From his press conference yesterday, here is what Kelly had to say regarding the matter:
"I've spoken to Michael Floyd and his mother and, in light of what took place this past weekend, I let him know he has been suspended indefinitely from football team-related activities," Irish coach Brian Kelly said. "Football needs to take a backseat at the moment while Michael gets his life in order. ... What's most important right now is Michael focusing on maturing and developing more as a person while working to improve his decision-making processes."
It is a classy handling of the situation by a surely frustrated Kelly, who was looking to take advantage of Notre Dame's most prolific wide receiver in school history in nearly every statistical category.
Floyd, who will appear in court on May 2 and is awaiting inevitable punishment from the Office of Residence Life at Notre Dame, did offer an apology for his actions:
"I understand the gravity of the decision I made and how it could have had catastrophic effects on myself and others," Floyd said in a statement released by the university. "I absolutely recognize that I have many things to work on to become a better person and will need to regain the trust of all whom I have hurt within my immediate family and the Notre Dame family. I fully intend to spend the immediate future improving myself to become a better member of our community."
It is unfortunate that he said the right things in his apology because he could have avoided the entire situation had he simply done the right thing and not gotten behind the wheel after drinking.
At this point it is hard to tell whether or not he will ever suit up in an Irish uniform again. Past precedent from incidents with former FB Rashon Powers-Neal and former TE Will Yeatman indicate Floyd's days playing under the dome are over.
As a team, the Irish will be fine. It hurts to lose one of your best players but it provides an opportunity for the younger players and rising veterans to take advantage of the open spotlight awaiting them.
My hope is that Floyd is able to personally come to terms with his past decisions and learn from the mistakes. It should be noted that he was cited for an underage drinking violation last summer, so there is a pattern of history repeating itself here. If his playing days under the dome are indeed over I hope he is able to find fulfillment either in the NFL or his professional working career.
It is a sad loss for the team but the Irish will no doubt have to become stronger as a unit because of it.