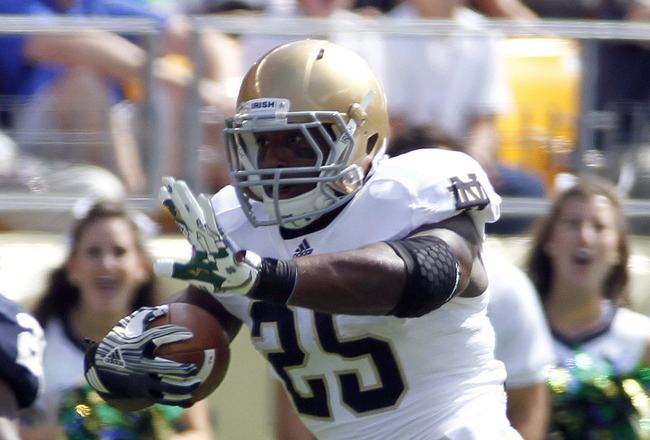 Notre Dame's
15-12 victory
over Pittsburgh last weekend was far from a thing of beauty. Turnovers, penalties and offensive miscues again abound for the Irish in keeping with the first half of the season.
One of the few spots of brightness, aside from the 'w', was a
79-yard touchdown run
from seldom used Sr. RB
Jonas Gray
.
Fitting for a 230 pound tailback for the Irish playing in Pittsburgh to scamper for such an impressive run.
Jerome Bettis
, a former Irish tailback in the mold of Gray's stature, played for the NFL's Pittsburgh Steelers for several seasons and unleashed similar runs against opposition in the Steel City.
Tommy Rees
was inconsistent and too predictable in the passing game for much of the afternoon as the Panthers did a tremendous job of disguising looks and confusing the Irish offense. He did, however, manage to put together the game-winnning touchdown drive late in the 4th quarter to put the Irish on top for good. On that series alone, he went 8-8 passing. For the game he finished 24-41 for 216 yards with 1 TD and 1 INT.
Tight End continues to be a valuable asset in the Irish offense.
Tyler Eifert
snared 8 passes from Rees for a game-high 75 yards and caught the game-winning TD and ensuing 2-pt. conversion attempt. For his efforts he was named
John Mackey Tight End of the Week
. He now leads all FBS Tight Ends in receptions, receptions per game, receiving yards and receiving yards per game. Translation: he's a stud.
On defense, the Irish yet again proved that the epic Michigan collapse was most likely an abberation. They held the Panthers to an unimpressive 268 total yards on offense and refused to allow a rushing touchdown. On the season, they have only allowed 1 rushing TD;
only Florida
has fewer.
Freshmen DEs
Aaron Lynch
and
Stephon Tuitt
were strong contributors for the second consecutive game. Lynch finished with 1 sack and an additional tackle-for-loss and Tuitt chipped in with 1 tackle while clogging gaps while splitting time at DE and NG.
Darius Fleming
recorded 2 sacks to support the defensive effort as the Irish tallied 6 total sacks of Panthers' QB Tino Sunseri. With the game on the line on what would turn out to be Pittsburgh's final possession the Irish defense harassed Sunseri with a couple sacks and forced the Panthers into 3rd and 4th and long, which they ultimately could not recover from.
Special teams still has room for improvement, although they managed to not turn the ball over or muff any kicks last Saturday. A questionable roughing the kicker penalty by
Austin Collinsworth
sparked Pitt's lone touchdown drive of the afternoon to open the 2nd half.
Despite a clear lack of obvious development thus far over the first several games the Irish and Coach Kelly were happy (and lucky) to
escape Pittsburgh
with a win.
I'd like to have won 37-0 too. But you know what? Winning's winning. It's not easy. You go on the road against a BCS team and limit them to 12 points and find a way to win. I like that development. We're developing and expectation with our guys that in a close game we're going win it.
Next up for the Irish is Purdue on Saturday, October 1 at 8pm EST on ESPN.