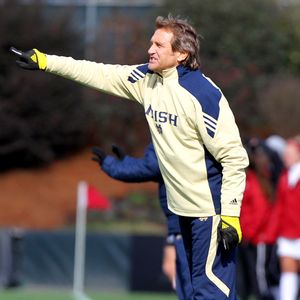 Honors
continue to pour
in for the Notre Dame women's soccer team as Head Coach
Randy Waldrum
was named National Soccer Coaches Association of America
(NSCAA)/Mondo National Coach of the Year.
Waldrum and his Irish squad are fresh off the program's
third national title in school history
, having completed a particularly difficult path in arriving there in the 2010 season. Back-to-back road wins in the third and quarterfinal rounds against top-seeded North Carolina and Oklahoma State marked just the third time in College Cup history that a team has accomplished consecutive road victories.
This is not the first coach of the year honor bestowed upon Waldrum. He has actually won the notoriety the past three seasons, albeit by a different voting association each time. Three really is a magic number.
For the program's sake let's hope his successes continue well beyond three (championships... coach of the year would seem to naturally follow national titles).