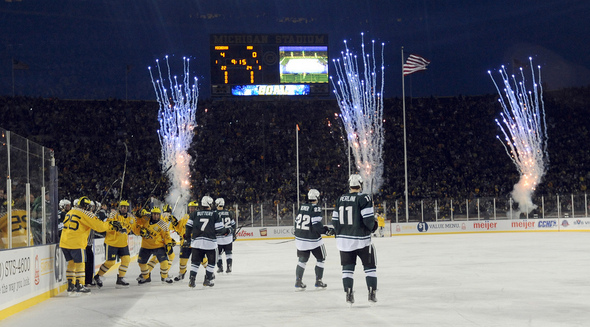 Last weekend Michigan Stadium, affectionately known as The Big House, was host to The Big Chill. No, there was not a special viewing of the
1983 classic film
of the same name featuring Jeff Goldbloom, Tom Berenger and Glenn Close.
Instead of film, the people of Ann Arbor took to sport and, namely, an event unlike any other its sport had seen before.
In-state rivals Michigan and Michigan State squared off in the most heavily attended outdoor hockey game according to the Guinness World Records. The event was so successful and heavily attended that people actually
forgot how to count
.
When initially reported, University of Michigan officials stated attendance was an astonishing 113,411 people.
A few days later, however, Guinness World Records informed the Detroit Free Press that the actual attendance mark according to its records was 85,451.
Did 27,960 people go missing?
No, Michigan just forgot how to count. Well, they just have a different view on what counts as actual attendance compared to how Guinness World Records tabulates attendance marks.
Evidently the Wolverines' officials included people working the game (media, staff, etc.) along with the count of spectators with tickets. Guinness, on the contrary, excludes people working the game.
Although the number recorded by Guinness was smaller than originally reported, it still surpassed
the previous record set earlier this year
at the IIHF (International Ice Hockey Federation) World Championships in Germany.
As for the game itself? The Wolverines embarrassed the Spartans 5-0 in what was quite the appealing sight with throwback uniforms dawned by both teams.