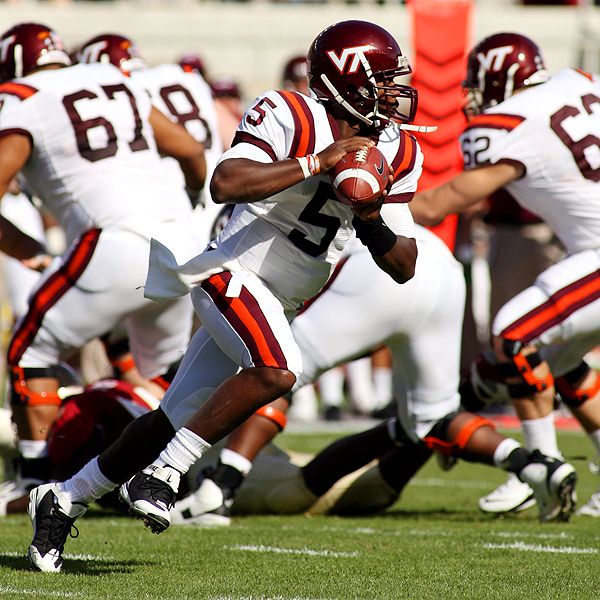 I don't really like trying to predict an entire season before a single snap has happened. I'm a far more accurate prognosticator week to week. The little things like injuries or who has the flu or weather all come into play and usually my gut tells me one of those odd factors is important.
None the less, I shall attempt to predict the future of Virginia Tech football.
One thing is certain; this Hokie team is extremely talented. Top to bottom this is one of the better groups head coach Frank Beamer has fielded in his 22 seasons in Blacksburg so it's no surprise many are whispering (even shouting) about a possible national championship run.
I was at a bar in Blacksburg the night a friend walked up and said, "Darren Evans tore his ACL today, he's out for the season."
I wasn't immediately sure if he was joking but I wasn't overly concerned. I feel for Darren who was poised to become a household name this year coming off his MVP performance in the Orange Bowl and a 1,265 yard, 11 touchdown redshirt-freshman season.
Most teams would be in big trouble losing that kind of production from a starter unexpectedly, but these Hokies are as deep at tailback as any program in the country.
Freshman Ryan Williams will lead the charge. He was already going to get playing time as Tech backs always split the carries. Now he looks to shoulder the load and live up to the hype generated by his high school credentials and his electrifying performance in spring ball.
Freshman David Wilson who already was looking to return kickoffs will now be thrust into the mix and he may be the fastest of the backs.
I should note that redshirt sophomore Josh Oglesby is currently listed as number one on the depth chart. Honestly though, unless he's improved a great deal and can hold onto the football a bit better, he'll be hard pressed to earn the bulk of the caries in this group, but his experience, albeit limited, is comforting.
Oh, there's also Tyrod Taylor. Taylor ran for 738 yards last season and as a quarterback, is the 6th leading returning rusher on the ACC.
The Techmen always run the ball, control the clock, and then pounce on defense and special teams. It's not as sexy as the way USC and Texas put people away, but it's extremely effective.
This year will be no different, but look for the Hokies to throw more as well. Taylor is finally the man at quarterback with the departure of trusted backup and sometimes starter Sean Glennon.
Taytlor's 13-2 record as a starter and 4 career 100-yard rushing games at QB (tying him with you-know-who) prove he has what it takes to lead the Hokie offense and his receivers will help.
The trio of sophomore wide outs Jarrett Boykin, Danny Coale and Dyrell Roberts all made huge strides towards the end of last season and look to keep that going in '09.
Greg Boone, Andre Smith and Blacksburg native Sam Wheeler provide depth and talent at tight end and of course Boone will return to his role in the phenomenally named "Wild Turkey" formation.
The 6'3", 283-pound Boone will continue to bruise defenders for tough yardage running and the former quarterback may even find himself throwing a bit more. Dynamic running back Ryan Williams is also expected to get some looks in this formation.
Defensively the Hokies have to replace some key players in corner Macho Harris and defensive end Orion Martin.
Senior free safety Kam Chancellor looks to anchor the secondary after tallying 52 tackles and two interceptions last season. He's started 28 consecutive games since the start of the 2007 season.
Up front, redshirt-junior Jason Worilds looks to have a break out season. After recording 62 tackles and 8 sacks last season, he looks to realize his full potential and become a leader along the defensive line.
Tomorrow, I'll most my brief look at each game. In the mean time check out this amazing fan made trailer for the upcoming season: