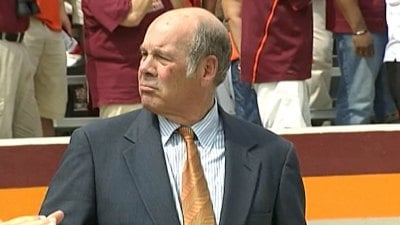 By Justin Cates
Like any man, Jim Weaver's legacy will not be easily defined.
Virginia Tech's athletic director announced last week that he will be retiring at the start of the new year, sooner than expected due to issues with his health.
Weaver has been controversial at times and has long been a source of consternation for the Hokie faithful. He's viewed by many as a kind of business drone obsessed with crunching numbers and watching the athletic department's bottom-line.
This is not entirely incorrect. Weaver's business savvy has put Tech's athletic department in the black and paved the path for the next director to take things to a level that not too long ago seemed like an impossibility.
Tech's facilities have improved across the board. A few missteps aside, the coaching has improved as have the academic support facilities, conference affiliation and talent level across all programs.
Many fans—myself included on occasion—have been frustrated by some of Weaver's decisions.
Loyal season ticket holders have been subjected to season ticket re-seating with preference given based on Hokie Club donations. Long time basketball coach Seth Greenberg was fired with horrible timing after most off-season coaching moves had already been made in the spring of 2012.
Something especially annoying to students was the decision to ban Tech's band, The Marching Virginians, from playing the "Stick It In" drum cadence.
Played when the Hokie football team had the ball in the opponent's red zone, the cadence—
seen here
—played as fans chanted, "Oh, Oh, Oh" while raising their hands in the air. Finally, the cadence stopped and everyone yelled, "Stick it in! Stick it in! Stick it in!" punctuated by a series of somewhat suggestive pelvic thrusts.
Some may argue that's just the behavior of immature college students deserving to be curtailed, but I have borne witness to elderly women in the stands joining in on the dance as well.
And then there's the time that Frank Beamer nearly got away in 2000.
As he said in his most recent book
Let Me Be Frank: My Life at Virginia Tech,
the winningest coach in Hokie football history actually briefly accepted the North Carolina job.
It was only when he and his wife Cheryl returned home that Beamer began to have second thoughts.
He met in Weaver's office with the AD, school president Dr. Charles Steger and Minnis Ridenour. During the meeting an offer was made to increase the salary for Beamer and more importantly gave more money to his assistant coaches.
It was nearly a dark moment in Hokie sports history, but proved to be a crucial save. Of course, it's fair to wonder how things ever made it to that point.
Rough patches aside, Weaver has had an incredibly successful tenure as the second longest serving athletic director in Virginia Tech history.
Sometimes, his interactions with the fan base weren't terribly smooth, but one-on-one he was surprisingly warm and engaging.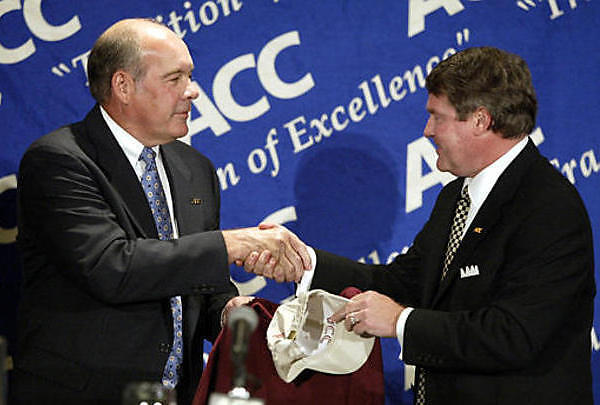 Weaver oversaw Tech's conference moves to the Big East in 2000 and to the ACC in 2004.
That brings me to my stories.
As a young kid in Blacksburg, I had developed an interest in broadcasting and at the urging of a neighbor I wrote a letter to the voice of the Hokies Bill Roth.
To my surprise, Bill called me one afternoon after I got home from school. He said he was across town watching a Tech baseball game and he invited me to come watch with him and chat.
I got a ride over and found the door to the press box locked. Like any mischievous and enterprising youth, I waited for someone to exit, then silently slipped inside before the door closed.
I made my way up the stairs and found Bill. We had a nice chat and not long after I told Mr. Roth that I wanted his job, in popped Jim Weaver to say hello.
Roth introduced him to me saying, "This is Justin, he wants my job".
Weaver shook my hand and said, "Young man if I have one piece of advice for you it's to work cheap."
Everyone laughed and I smiled somewhat puzzled. Years later, I truly appreciate the driest sarcasm I've ever heard. Given his penchant for the bottom line though, I've always wondered if it wasn't partially serious.
Fast forward to my freshman year of college when I was working for campus radio station WUVT.
I decided to attempt to interview Weaver and initiated it by sending him an e-mail late one Friday afternoon.
Unexpectedly, he responded quite quickly and agreed to an interview in his office in the Jamerson Athletic Center the following Monday morning.
Dressed in an ill-fitting suit, I sat in the waiting room with his secretary, politely declining coffee and wondering what I'd gotten myself into.
After a few minutes he came out and shook my hand, then led me into his enormous office.
He patiently sat and answered everything I had written down and even random things I started throwing at him from Hokie football scheduling to when he thought Joe Paterno would retire at Penn State (
Editor's Note: Weaver played and coached under Paterno).
He didn't have to do any of that. He could have politely declined my request for an interview or even ignored my e-mail altogether.
That's never been Weaver's style.
Whether you agreed with him or not, he always stood his ground and was willing to explain himself to you.
He served Virginia Tech well and oversaw the athletic department during a tumultuous time in college athletics.
He ruffled feathers with things like coaching changes and ticket re-seating, but those things come with the territory in big-time college athletics. Thanks in large part to Weaver, Hokie sports are just that now. Big time.
And so I'd like to give him the biggest compliment I can offer: Jim Weaver is a true Hokie.
Not that he cares what I think.
Maybe, I'll send him an e-mail.