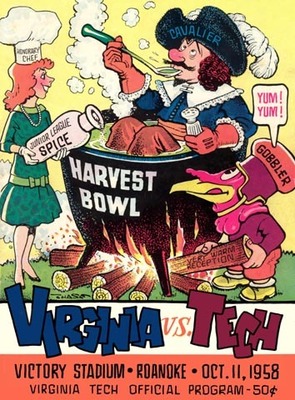 By Justin Cates
Editor's Note: Saturday will mark day 3,291 of Virginia Tech's continuous possession of the Commonwealth Cup.
Virginia Tech has lost three of it's last four, but with one final spin of the ACC "wheel of destiny" there's still a chance the Hokies can win the Coastal division.
Tech needs to beat Virginia and hope North Carolina can edge the surprising Duke Blue Devils.
That very well may happen, but the Hokies (7-4, 4-3 ACC) have shown they're more than capable of losing to anybody and Duke can beat just about anyone after winning seven straight games.
The Cavaliers (2-9, 0-7 ACC) haven't won a game since beating VMI on September 21. They've played horribly, but there is certainly plenty of talent on the roster and funny things happen in rivalry games.
Junior Kevin Parks is a good running back who has gone over a hundred yards five times this season including the last two weeks at North Carolina and Miami.
The 'Hoos haven't been able to pass effectively, but stopping the run has been tough for opponents as Parks has 926 yards and 11 touchdowns.
As for that passing game, it hasn't been pretty.
Quarterback David Watford has eight touchdowns and 15 interceptions this season prompting coach Mike London to insert freshman Greyson Lambert in recent weeks.
Against Miami, Lambert completed 13-of-19 passes for 134 yards.
A marginal improvement, but Lambert gives the 'Hoos more of a threat through the air while Watford's strength is his athleticism on the ground. Both quarterbacks will play Saturday.
On defense the Cavaliers are paced by safety Anthony Harris who leads the nation with eight interceptions.
Harris will miss the first half against the Hokies after being ejected for targeting against Miami.
The Hokies are looking to beat Virginia for the 10th straight season.
All bias aside, Mike London is probably the worst football coach in the country. He's like a more hapless and hilarious version of Al Groh. He makes Will Muschamp look like Vince Lombardi.
How UVA has managed to go from George Welsh to knuckleheads like Al "NFL experience" Groh and Mike "I won the national championship with someone else's players" London is well beyond me.
With its academic profile and upper level facilities, Cavalier football is a sleeping giant. At present, that giant is comatose.
Point of fact, I myself am not currently an FBS head football coach, however it doesn't take one to see a bunch of underachievers.
"Yeah, yeah I KNOW! Just lay off until they fire me okay?"
That brings us back around to the Hokies.
This isn't a bad team. It's not a good team either. Not much was expected with a new offensive coaching staff, but this group was close to so much more than 7-4.
That being said, the Hokies could still win nine or—theoretically at least—ten games this season. With a win and some help from the Tar Heels, Tech could make it to Charlotte to play for the ACC title game.
Had you offered that deal to Frank Beamer in August he would have called you a liar and promptly taken the deal.
The point is, there's still a lot on the table for Virginia Tech football this season.
Everything else aside, it's always satisfying to beat UVA in anything.
Plus I may or may not have a large sum of money invested in, "Virginia Tech Football: A Decade of Dominance in the Commonwealth" T-shirts.
We'll see if the Hokies can make it a reality Saturday.