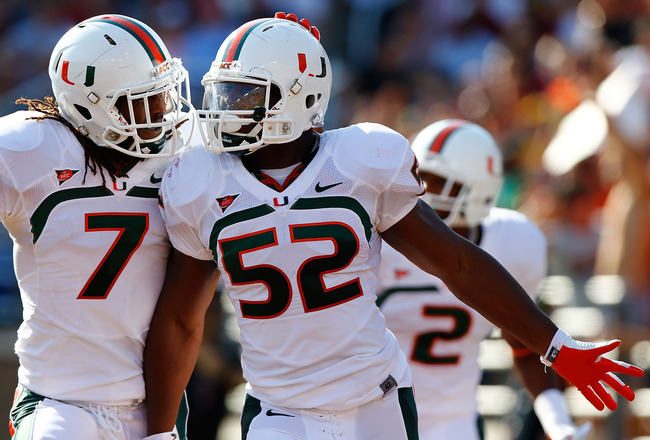 By Justin Cates
Maybe it's my fault.
It certainly appears ominous now that I left the Duke preview hovering at the top of the page this past week.
After that miserable 13-10 loss, the Hokies looked to rebound against Boston College. The folks from Chestnut Hill did not cooperate.
For the second consecutive week, Tech put up some big numbers and largely dominated the stat sheet but also once again made far too many mistakes to win.
The Hokies racked up 446 yards of total offense to BC's 289 but lost by seven thanks largely to four turnovers by quarterback Logan Thomas.
Thomas threw for 391 yards and two touchdowns becoming Tech's all time leader in total offense, but also lost two fumbles and tossed two interceptions, one of which was returned for a touchdown.
That makes eight turnovers for Logan in the two losses. Whatever happened during the Hokies' bye week has had disastrous consequences for the senior signal caller.
The only real bright spot on offense Saturday came from receiver Joshua Stanford. The redshirt freshman had a breakout game with six catches for 171 yards. He's shown a great deal of improvement over the season and continues to make tough catches when needed.
Demitri Knowles on the other hand is a puzzling case.
The redshirt sophomore has shown tremendous potential but has struggled at times this season. His kick returns have been terrible—an area where he excelled as a freshman—and he seems reluctant to make tough catches over the middle.
Against BC he blew a wide open catch when it appeared he didn't look for the ball, instead flailing his arms at the last second and knocking the pass in the air for a defender to grab for an interception.
It's easy to blame Thomas for everything—and he's playing really poorly at present—but the supporting cast continues to have its issues.
The defense played as one would expect, though one could argue it was an off day. Subtracting the pick six, the Hokie defense gave up 27 points and got run all over by the Eagles' outstanding senior tailback Andre Williams.
The Hokies will be glad to see Andre Williams graduate. I sure as Hell will.
Williams finished with 33 carries for 166 yards and two touchdowns.
That took all the pressure off quarterback Chase Rettig and allowed him to simply manage the game. Rettig completed 11-of-14 passes for 93 yards and a touchdown.
Virginia Tech (6-3, 3-2 ACC) is now tasked with taking down Coastal Division leader Miami (7-1, 3-1 ACC).
The rival Hurricanes are coming off a tough loss to Florida State, a result made worse by a key injury against the Seminoles.
All-ACC tailback Duke Johnson suffered a broken ankle late in the game and will be lost for the rest of the season. That puts backup Dallas Crawford in the starting role.
Crawford played exceptionally well when Johnson was injured against North Carolina putting together 33 carries for 137 yards and two touchdowns.
Crawford is very good, but not nearly at the level of Johnson.
The injury hurts, but the 'Canes will win or lose based on the play of quarterback Stephen Morris.
Morris and Logan Thomas are basically the same person. Both are talented, athletic passers responsible for many great plays and victories. They also both make bonehead plays and ill-advised throws that hurt their teams.
Morris has 12 touchdowns and 10 interceptions on the season. Thomas now has 11 touchdowns and 12 picks.
Which Stephen Morris will show up Saturday? Definitely the one with this awful tattoo.
You get the idea.
These are two strong defenses so whichever team can get better quarterback play stands the best chance to win.
I have absolutely no idea who that will be and expect it to vary from quarter to quarter or even drive to drive.
For the second straight year Miami plays this one at home in prime time. That may well be the advantage that puts them over the top.
No. 14 Miami hosts Virginia Tech at 7 PM Saturday in Miami Gardens, Florida. The game will be shown on ESPN.