Tom Knight is letting his distaste for the road post-season uniforms known.
Without question, the "Shamrock Shake" green uniforms worn by Notre Dame's Men's Basketball team during the Big East Tournament are ugly. There's no way to sugar coat, not even with an extended challenge by my colleague.
Nonetheless, here's my attempt at making some sense of the Adidas experiment gone wrong.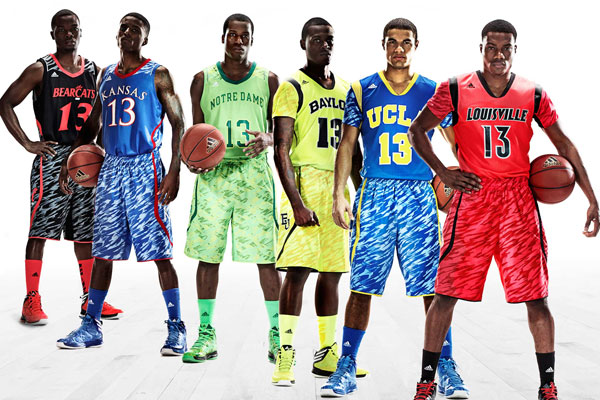 Cincinnati, Kansas, Notre Dame, Baylor, UCLA, and Louisville show what happens when camo meets the hands of an unskilled fashion designer.


Adidas didn't just mess with ND, they also somehow tricked several other programs to join in the post-season 'fun'
The 'home' white versions of the uniforms, save for the camo shorts, aren't half-bad
Notre Dame's uniforms are far from the worst of the bunch. That distinction should belong to Baylor, who not only utilizes a brighter, more neon uniform but also features built-in sleeves. Gross.
It's March, ND is simply being on brand.
From the waist up, the home white uniforms are tastefully done.
On a final note, Notre Dame Women's Basketball team is also sporting an alternative look this post-season. They aren't likely to face anywhere near the criticism as their male counterparts, though, because they opted out of the camo look.
Winning also helps, too, as the Lady Irish earned their first (and last) Big East Conference Tournament Title by defeating the Connecticut Huskies in Storrs, CT last Tuesday night.
Skylar Diggins and the rest of the Irish Women's Basketball team celebrate their hard-fought Big East Conference Tournament Title.
Now, the Skylar Diggins-led Irish look to earn the school's second National Championship.