To say I'm bummed that the 2012-13 Hokie basketball season is over would be incorrect.
I'm very thankful that I won't have to watch this incompetent bunch bumble their way through the Atlantic Coast Conference any longer. Frankly, they should have been put out to pasture at the start of the new year.
The only thing I'll miss is watching Erick Green, the incomparable Hokie point guard who finished his senior season as the nation's leading scorer and as the ACC Player of the Year—both firsts for a Hokie.
In his final regular season game against Wake Forest, Erick broke the school record for points in a season with 786 surpassing the old mark of 785 set by Bimbo Coles in 1989-90.
Other teams put their best defenders on him and trapped and double-teamed him almost every game knowing he was the only real offensive threat, but still he piled up obscene numbers.
Those would be 25.4 PPG on 48% shooting from the floor including 39% from behind the arc.
That's right, he made half his shots and I can assure you having watched nearly every painful moment this season (Thanks ESPN3?) there weren't that many easy lay-ups.
He embodies everything you want in a team leader, heart, toughness, talent and work ethic. He gave his all every single game, often to the point of exhaustion.
Green was helped off the court suffering from dehydration against Georgia Tech Feb 9.
If you haven't seen him play you might assume he's a selfish player who rarely involves his teammates, but that couldn't be further from the truth.
Green averaged just under 4 assists per game (3.9) and should have had many more. The guys around him just didn't make any shots.
No one expected much from the Hokies this season with a first-year head coach and only eight scholarship players, and that's mainly what folks got.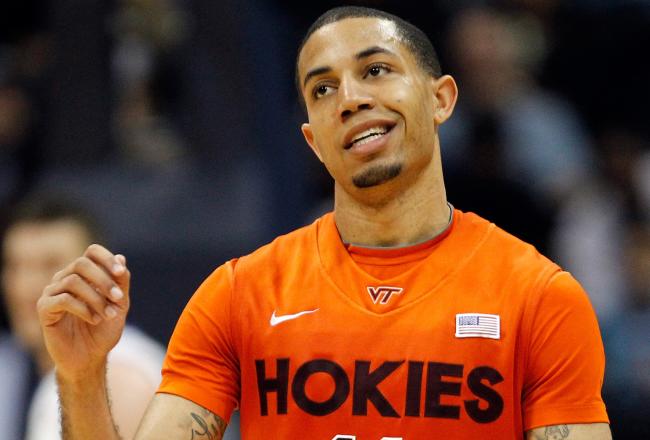 There was plenty of frustration for the Hurryin' Hokies this season.
The lone bright spot was Green doing his best and desperately trying to get his teammates to follow his lead.
There were lots of voices in recent weeks arguing against Erick's case for player of the year based on Tech's abysmal record (13-19, 4-13 ACC), the thinking being you can't be the best player if your team doesn't win.
Indeed, there haven't been many instances of MVPs on losing teams and in ACC hoops the only other example is the late Len Bias of Maryland in 1986.
In professional sports, I had a hard time finding anyone beyond the great Andre Dawson in 1987 when he took home the award after hitting .287 with 49 home runs and 147 RBI for the last place Chicago Cubs.
No these types of honors aren't just about stats, but certain individual performances can overcome playing on a bad team.
Ultimately, it doesn't really matter if you thought Shane Larkin of Miami or maybe Seth Curry of Duke was more deserving. EG just finished a season so impressive that he convinced even the Carolina media mafia he was worthy of their highest honor.
I'm sad to see the best thing about Hokie hoops head on, but I look forward to following him as he attempts to play professionally.
He'll make it somewhere because of his skill and make-up. He had the drive to keep going even when it looked like many of his guys had given up.
Come to think of it, that sounds like the perfect point guard for the Charlotte Bobcats.