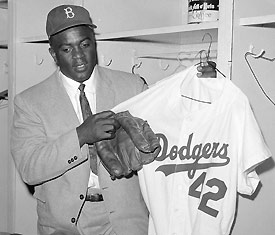 Today marks the 62nd anniversary of Jackie Robinson's first game in Major League Baseball. To mark the occasion, the commissioner of baseball (the not so honorable Bud Selig) has asked that all uniformed personnel wear Robinson's now retired no. 42.
The past two seasons wearing the number was made optional, but that's not the case this time around.
12 years ago Selig retired the number 42 for all teams across baseball, but allowed players who already had the number to keep it. Of that group, only New York Yankees closer Mariano Rivera is still active.
Robinson holds a special place in the heart of all major leaguers, but another Yankee has a special connection. Second baseman Robinson Cano is named after Jackie, and normally wears no. 24, the reverse of Robinson's famous number as a tribute to the great man honored today.
Interestingly enough, this all started with an idea by Ken Griffey Jr. who two years ago asked the commissioner for permission to wear the number for one day.
"It's just my way of giving that man his due respect," Griffey said at the time. "I just called Bud and asked him if I could do it. He made a couple of phone calls and said, 'Yeah.' We had a good conversation. It was about me wearing it on that day, and only that day."