By Justin Cates
The Hokies finally cracked the top 25 this week coming in at No. 24 in the Associated Press Poll and No. 25 in the USA Today Coaches Poll after defeating North Carolina 27-17.
That makes plenty of Hokies—this one in particular—more than a little nervous, especially with the Pittsburgh Panthers coming to town.
Pitt has beaten the Hokies four straight times dating back to 2001. I'm quite certain Ronyell Whitaker still has nightmares about Larry Fitzgerald.
Larry Fitzgerald had 3 touchdowns in 5 catches to help beat the No. 3 Hokies in 2002.








Last year of course, the 13th ranked Hokies were absolutely embarrassed as the Panthers thumped Tech 35-17 at Heinz Field.
That's not the only negative history heading into this one.
Saturday marks the first game I will attend in person this season and I'm in a bit of a slump myself.
Last season, the Hokies lost both games I saw in person (Cincinnati, Florida State) and they've stumbled in three of the last four. We have to go all the way back to Tech's 38-35 thriller over Miami in 2011 for a victory I've witnessed firsthand.
It's imperative for me to perform at a high level in this one. I'm already hydrating.
As for the men on the field, Pitt quarterback Tom Savage has been cleared to play after suffering a concussion in the Panther's win over Virginia.
Savage was sacked seven times in Charlottesville and the Wahoo defense has been suspect at times, especially against Ball State.
That bodes well for a Tech defensive front hoping to continue harassing quarterbacks. They'll need to in order to disrupt a potent Pitt passing game.
The Panthers have two outstanding receivers in Devin Street (21 catches, 445 yards, 3 TDs) and freshman Tyler Boyd (23 catches, 425 yards, 4 TDs).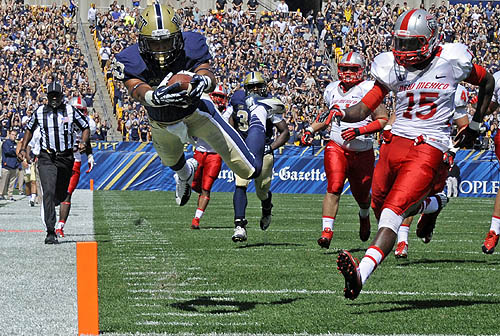 Tyler Boyd hopes to keep flying high against the Hokie defense.
Tech leads the nation in interceptions, so this will be a fun match up to watch on the outside.
On the ground, Pitt freshman James Conner is off to a fast start. So far he's racked up 353 yards at a rate of 5.7 per carry.
It's a balanced attack, though they struggled against Florida State in the only real test this season.
The Hokies rank fifth in the nation in total defense—two spots ahead of FSU—despite being on the field 85 more plays than top-ranked Michigan State.
The Tech defense has been asked to do a lot because of the oft-troubled offense.
Logan Thomas had a strong outing against Carolina, throwing for nearly 300 yards, three touchdowns and no interceptions.
Willie Byrn had the first 100 yard receiving effort of the season and Josh Stanford made some very nice catches.
Still, the Hokies can't run the football. They will have to keep passing until teams respect the run game. It's a frustrating, vicious cycle.
This might just be the game to break that cycle a bit. The Panthers are 66th against the run and 52nd versus the pass. It's a defense that has struggled in all facets which makes for a fine salve for a sputtering run game.
And if that doesn't work? Throw it all over the yard and hope.
Virginia Tech hosts Pittsburgh Saturday at Noon on ESPNU.