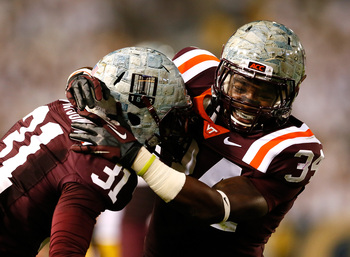 By Justin Cates
North Carolina (1-3, 0-1 ACC) was a trendy pick in the preseason to win the ACC's Coastal division while Virginia Tech (4-1, 1-0 ACC) was largely an afterthought.
Those roles have have quickly reversed as the Tarheels limp into Lane Stadium Saturday afternoon.
The Hokies surprised many by dominating Georgia Tech on a Thursday night in Atlanta. The 17-10 final score didn't tell the story.
The Hokie defense allowed the vaunted Georgia Tech rushing attack just 129 yards while Logan Thomas played his best game of the season on offense.
My last preview featured only one mildly optimistic note that Hokie QB's often play well in Atlanta and Thomas joined the list by completing 19-of-25 passes (including his first 9) for 221 yards and a touchdown.
He also toted the ball 16 times for 58 yards and a rushing touchdown despite nursing an abdominal strain and a mild ankle sprain late in the game.
It's no secret, the man is a tank but the Hokies will likely try to limit his carries a little more this week. That will of course be somewhat dictated by the defense.
Outside of Thomas, Tech had absolutely no running game last week. The plan from the start was to throw the ball a lot because defenses are stacking the box and daring them to pass. Assuming that remains the case against a struggling Carolina defense, look for LT to keep throwing.
His receivers are finally stepping up and helping him out too.
Demitri Knowles had his best game of the season snagging five catches for 67 yards. D.J. Coles caught a touchdown pass on Tech's first drive of the game, Josh Stanford made some tough catches in big situations and Willie Byrn continues to be a reliable option as well.
Byrn is listed as probable for this weekend after suffering a knee injury against the Yellow Jackets.
The Hokie defense is playing simply masterful. It was nice to hear ESPN's Thursday night crew fawning over the defensive line, particularly Derrick Hopkins.
The defense stands to get a little better this week with the return of defensive back Antone Exum.
Antone Exum adds depth to an already talented and deep secondary.
Exum had offseason surgery to repair a torn ACL as well as his lateral and medial meniscus and a bone fracture all suffered during a pick-up basketball game.
In his absence, Tech has continued to see veteran Kyle Fuller play well and everyone has been wowed by his brother Kendall and fellow true freshman Brandon Facyson.
Facyson is currently tied for the national lead in interceptions with four and will continue to start at field corner with Exum getting time in spots.
There were rumors during the week about Exum starting and Facyson getting reps on offense (he got a few) but for now at least, it's just an idea.
The defense will look to harass UNC quarterback Bryn Renner who has struggled so far this season, but his top weapon, tight end Eric Ebron is always a match up problem.
Eric Ebron will challenge Tech's stout pass defense.
At 6-4, 245 he presents a significant challenge for a linebacker but still has the speed to give defensive backs headaches. Tech has used 6-6 quarterback Bucky Hodges to simulate Ebron's size while receiver Austin Jones was used for speed in practice.
It's a must win game for the Tarheels if they have any hope of salvaging the season and it's a massively important recruiting day for the Hokies as a number of valued high school prospects will be in attendance.
The game kicks off Saturday at 12:30 and will be broadcast on the ACC Network—which isn't really a real thing so check you local listings for an affiliate in your area.