As you may or may not have noticed, Brian and I have entered a period of extreme silence during what is one of the great times of the year—college football season.
We haven't kept in proper contact recently, in fact our first verbal communication came after Notre Dame's surprising victory last Saturday over the mighty Oklahoma Sooners.
I had been anticipating a great deal of Irish coverage as the team somehow continued winning, but there was silence.
Brian explained this weekend that he had stopped writing because he had convinced himself if he published, ND would finally lose.
In a strange ironic twist, I had stopped writing because the Hokies are flat out terrible and frankly, I'd largely run out of helpful suggestions.
So there's the update. One blogger overcome by failure, the other success.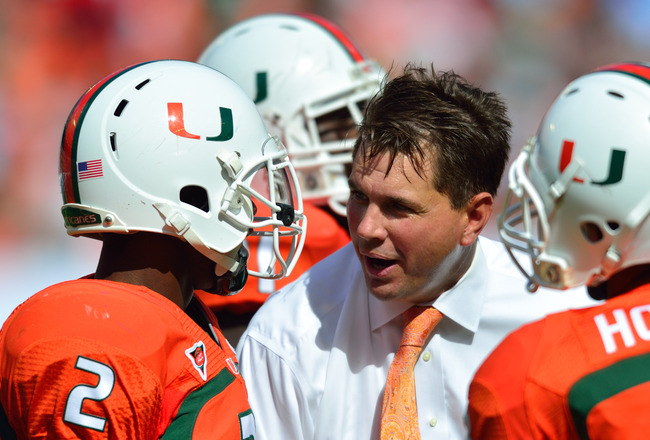 Miami coach Al Golden has plenty to sweat about.
The Hokies face the Miami Hurricanes Thursday in south Florida. Brian claimed he would be shocked if Tech didn't rush for 300 yards against the 'Canes and I can see his point.
Miami ranks No. 119 out of 120 teams in rushing defense. That's great news to a Hokie rushing attack just 70th best in the nation.
Despite that, the 2012 Techmen are incapable of giving a beating like the one Notre Dame gave "da U" back in Chicago.
Expect a floundering Hokie performance and a narrow victory that could easily go the other direction with one or two wayward bounces.
As for the Irish, what can I add that hasn't already been said?
They
should
win every game left on the schedule. But clearly, that isn't how college football works.
Pittsburgh may well roll right on over for the freshly awakened echoes, or they might muster the all-world effort they showed against the Hokies—not that they needed that kind of effort.
I expect another close one with ND pulling it out late because, well, that's just how they do it.
It's nice to have something reliable like that isn't it?
At least, until the next game...and the week after that...