The Heisman Trophy race has reached it's apex as the audition season is essentially over.
All of the major players in this race have played their final regular season games and are either, ineligible or didn't qualify for their conference championship games. Of course, one school doesn't play in a conference.
It's been a strange season of college football with no one team dominating and very few players rising above the pack to be considered exceptional.
You don't have to believe me, but I arrived at this list of three Heisman finalists before reading some of the analysis that's out there. We'll look at each players season and then I'll give you my pick.
Manti Te'o
Manti Te'o is considered by many—especially if you read this blog with any regularity—to be the frontrunner for this years Heisman.
To be sure, Te'o is the best player on an outstanding Notre Dame defense and has been a captain on a team that has defied logic and reason to end up in the BCS national championship game.
Te'o finished the season with 103 total tackles, seven interceptions and one sack.
Shockingly, the total tackles number ranks him only 58th in the nation—Toledo's Dan Molls leads the country with a mind-boggling 166 total tackles—but Manti's interceptions put him at No. 3.
Te'o plays smart and fast as few can. If I were to compare him to a professional it would be Ray Lewis, not in size or aggressiveness, but they share an uncanny knack to always be around the ball and to finish plays.
Also, you always have to be aware of where these guys line up on the field.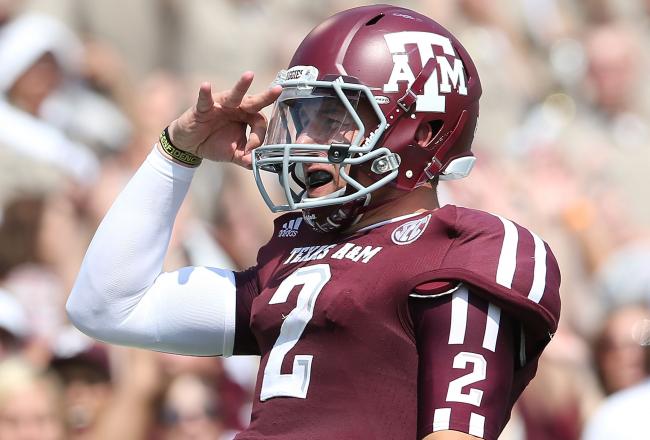 Johnny Football has a great nickname and a stat line that belies his true freshman status. A quick Google search however will point out that he got into
a little trouble
prior to the season. He also was Scooby Doo for Halloween and is a big fan of blonde girls...in other words a true freshman.
Manziel has completed 68% of his passes for 3,419 yards and 24 touchdowns and just eight interceptions.
On the ground he's rushed 184 times for 1,181 yards and 19 touchdowns. That's 4,600 total yards and 114 points in the toughest conference in the nation.
Sure he missed his one really sad extra point attempt, but he also beat then No. 1 Alabama in Tuscaloosa.
Braxton Miller
Ohio State is the only undefeated team aside from Notre Dame and they're delightfully ineligible for any postseason play. That doesn't mean Buckeyes can't win awards however, and Braxton Miller has had a fine season.
Urban Meyer's spread offense was designed for a player like Miller.
Braxton has spearheaded a 12-0 season by passing for 2,039 yards, 15 touchdowns and six interceptions.
He's also added 1,271 yards and 13 touchdowns on the ground. Oh and he's only a sophomore.
Needless to say, the Buckeyes have one of the most versatile offenses in the country and will be a major factor in future national championship pictures once they finish up probation.
———————————————————————————
These are the top three guys on my board, and likely you'll see them invited to New York City for the Heisman presentation.
I included the note about Johnny Manziel's little altercation because Brian and others pulling for Mr. Te'o have been quick to point out that the Heisman, "recognizes the outstanding college football player whose performance best exhibits the pursuit of excellence with integrity".
That's important to remember, but I think it's unfair to rule out the best freshman in the country based on a relatively minor mistake made before the season even started.
Braxton Miller and Manti Te'o are both terrific players who deserve to be recognized, but I think it extremely unlikely that anyone other than Johnny Manziel wins the Heisman Trophy this season.
What he's done on the field is unprecedented and won't soon be repeated by a frosh.
Don't agree? Tell us why and don't forget to
vote
over at Nissan's Heisman house to let your voice be heard.
Because nothing says integrity like fan voting and a sponsor tie-in!