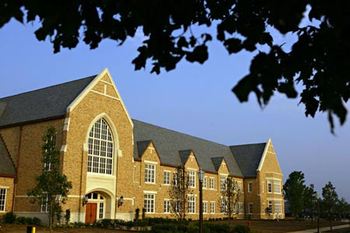 Until recently, Notre Dame Football did not have a training table or set of unshared locker rooms and facilities. In fact, the team's practice facilities were spread across three different locations:
Notre Dame Stadium
,
The Joyce Center
and the
Loftus Sports Center
. Instead of lavish dedicated facilities like the ones at Oregon and Texas, the Irish trailed far behind in the college football arms race.
That all changed with the opening of
Guglielmino Athletics Complex
, or as the players affectionately call it "The Gug." Conjoined to Loftus Sports Center, The Gug is a 96,000-square-foot masterpiece made possible by the late Don F. Guglielmino and his wife Flora.
In 2005, Notre Dame Football officially unveiled The Gug as its solution to unify the program under one roof. As a result, the Irish had weight training, meeting rooms, practice locker rooms and even a lounge to relax. The
addition of a training table
did not come until current Head Coach
Brian Kelly's
inaugural season at the helm.
The following video, presented by Irish Sports Connection (ICON), opens the doors of The Gug for a public tour, led by Sr. C
Mike Golic, Jr.
and Sr. NG
Brandon Newman
.
All in all, The Gug is a remarkable facility that warrants showing off as one of the many perks provided to Notre Dame's football squad.
Arguably, the most meaningful perk is the premier education afforded to all of Notre Dame's athletes. While the University held up its end of the bargain, Irish athletes responded to the academic challenges by earning a
#1 ranking
in 2011 NCAA Graduation Success Rate (GSR).