Breaking news! It has come to our attention at Stars and Slights that David Ortiz and Manny Ramirez both tested positive for performance enhancing drugs in 2003.
Wait, I thought we had breaking news?
Manny Ramirez has been on the list of pariah's since early this season when baseball suspended him for using estrogen, commonly used by steroid users coming off a use cycle.
Let's be fair to David Ortiz, before he came to Boston, he was terrible.
More accurately he was injured. His best season came in 2002 when he totaled 32 doubles, 20 home runs and 75 RBIs in just 125 games. Despite that outlier, in 6 seasons with the Twins Ortiz hit just 58 homers.
Ortiz next landed himself in Boston, where he met a young slugger named Manny.
Manny is the player everyone loved (loves) to hate. He played with a cavalier sense of urgency. There is no left field aside from the cramped short porch provided by Fenway Park's where Manny could have carried on his parade of follies as long as he did.
There is literally no foul territory in left field and any hit that managed to launch over his dreadlocked head would either be a home run or it would slam into the wall and carom off the Green Monster back in his general direction.
In between his underwhelming fielding efforts, Manny would disappear into the Green Monster to do what we can only imagine. I'm sure he just made phone calls and checked his e-mail, but one never knows.
And indeed, no one wanted to know what Manny was doing in there. Just like no one wanted to question how a career role player was suddenly setting major league records for homeruns by a designated hitter and being named to all-star games left and right.
"It's because he hits behind Manny," everyone would say. I like most sports fans accepted that for years. I ignored his irregular heartbeat in 2006, ignored his crumbling meniscus and wrist and chocked them up to just more Ortiz injuries.
I even ignored his unbelievable slump to start this season when Ortiz went pretty much 0 for the first two months.
"Manny's gone now," everyone said dejectedly. Of course he had the white hot Kevin Youkilis to protect him this year. Even amid the whispers of ever-increasing volume about steroids, no one wanted to believe it.
I as a Yankee fan even managed to give Ortiz the benefit of the doubt. I thought there was no way such a feared power hitter who came out of nowhere at the height of the steroid era could be cheating.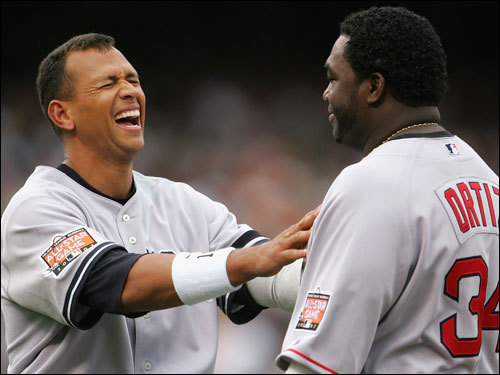 "Here you go buddy! I don't want the awkward attention anymore!"
Well it turns out I along with everyone else was wrong. The Yankee killer to end all Yankee killers was no better than Manny being Manny. He was no different than Sammy Sosa, Mark McGwire or less known drug abusers like former National League MVP Ken Caminiti who now not coincidentally is dead.
As a baseball fan, I'm not shocked but I am a little saddened that one more face has to be chipped off of baseball's mountain of immortality.
As a Yankee fan, I'm mildly amused that the Red Sox broke their 86-year curse with one of the best tandems of 3-4 hitters ever, and they both cheated. I'm also amused that Manny and Ortiz were able to find steroids that worked in the postseason while A-Rod clearly settled for the bargain basement variety.
Baseball had better be glad that it's a dull, boring, time-consuming sport that has long been surpassed by football as America's pastime, because that's all it has going for it.
Hmmm the future isn't too bright is it?