By Justin Cates
I spent this past Sunday embedded at a bar in upstate New York watching professional football with a particular focus on the Patriots-Bills game.
I've not witnessed Buffalo fans truly in their element, that is to say drunk in a bar convinced against all odds of a victory.
To be fair, for most of the afternoon they looked like they were onto something. Much to my surprise rookie E.J. Manuel performed quite well and the Bills—as they often do in September—looked like a team with promise.
And this is why every fall just as sure as the turning leaves, Bills fans flock to their local watering holes to load up on Labatt products and chicken wings in the hopes that these timeless fuels will propel their boys to victory (
Ed. note: I legitimately counted at least thirty gallons of Frank's RedHot in the kitchen of the particular bar I was sitting in. I would assume there was an additional oil drum somewhere in the back in accordance with New York state law).
It's admirable and depressing that a group of such passionate fans continue to subject themselves to the same kind of torture every season.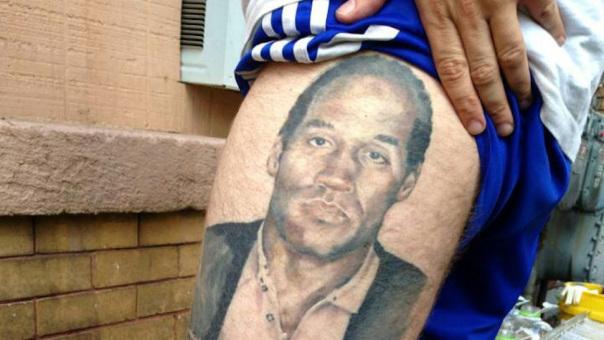 We all make mistakes, but...damn that's a poor choice.
'It's a new era,' they tell themselves. Indeed, there's a new coach and a new quarterback and maybe this time will be different. Right? I mean, it can't happen
every
time can it?
I do like E.J. quite a bit. I remember laughing at the remarks of the fans on the other end of the irrationality spectrum last year when he beat the Hokies in Blacksburg.
A group of very pleasant Florida State fans sat behind one of my lawyers and I, and we had lot's of good discussion throughout the game. The weird part was, they couldn't stand their quarterback or their head coach Jimbo Fisher because they weren't always perfect.
I kept thinking to myself that I would love to have either man leading my team (
Ed. Note: No disrespect to Frank Beamer or Logan Thomas, I just think Manuel and Fisher and both very good
) and that these fans were crazy.
And that's what I'm driving at here. Fans are supposed to be crazy. As you've likely heard many times between binge drinking sessions, the root word of fan is fanatic.
Fans are people so fundamentally committed to their causes that they are in no way governed by logic or reason. They can't be persuaded or cajoled to believe they are even remotely wrong and this is fine.
It's why I excused the comment by a lonely Raiders fan consoling a group of Bills backers when he said, "You guys are alright, C.J. Spiller is the best running back in football."
It's also why I found nothing out of the ordinary when grown men were screaming at the TV wondering aloud in complete seriousness, "How does Brady always do this? He SUCKS!"
Fandom rots your heart from the inside out and turns your brain to jelly. Accountants paint their chests and go shirtless in December winds while the innocent little octogenarian down the street turns into a subhuman beast when her hate-filled eyes spot a Wes Welker jersey at the mall.
While I might prefer a little less vitriol, I must also embrace it. It's part of what makes being a fan so much fun.
There's nothing quite like being showered with insults as you walk into an opposing stadium only to emerge three hours later having witnessed your team win by seven touchdowns.
So here's to the diehards! Fans of the Bills and Browns and Rams and Jaguars. These hearty souls deserve all the support they can get.
But really, they probably need a beer.