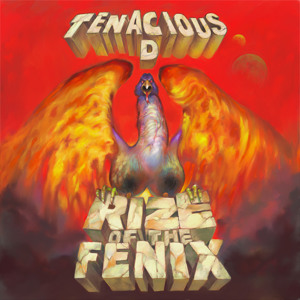 Brian and I have a special relationship with Tenacious D.
We've never met Jack Black or Kyle Gass, but it was the intensely rocking and hilariously profane stylings of their 2001 eponymous debut that inspired us to create our own comedic rock duo, and eventually, a real band.
We played that album constantly, shaking Brian's little white Honda and belting out every single lyric while shuttling back and forth between school, golf practice and local pizza joints.
Calling ourselves "The Deuce"—likely because there were two of us and you can make a bathroom reference from it—we would get together in our free time and Brian would play riffs he came up with or actual songs by artists ranging from Green Day to Van Morrison and I would freestyle silly lyrics over them.
Windows Sound Recorder was the medium of choice at the time. Even then it was an archaic program with few features beyond the record button, but we used it to make several albums of songs such as "I'd Like to Bang the Olsen Twins" and "Putt-Putt Prostitute".
It's a long way from GarageBand and ProTools.
It was crude and kind of good, and from those humble beginnings rose a real semi-professional band, Cutting Room Floor.
That was all thanks to the D.
And so we followed their career as Jack Black became a big star and eventually got a movie and album made called Tenacious D in The Pick of Destiny.
Despite being a critical and financial failure, fans like us found it to be typically gut-busting and the music was outstanding.
Now we have been given the next chapter in the D saga, Rize of the Fenix.
The album is set for release May 15, but you can stream it all now on their
SoundCloud
account and watch the video for first single "Rize of the Fenix" below.
Kage (left) and Jables (right) will rock your socks off once again.
Everything about this album screams vintage D, from the extremely phallic "Fenix" on the cover to the silly little skits between JB and KG sprinkled between songs.
After giving this album a couple of listens I think it's very solid indeed and fits nicely with the other albums in their catalog.
"Senorita", "The Roadie" and "The Ballad of Hollywood Jack and The Rage Kage" are outstanding tracks steeped in the flavors of the D's best work.
Jack Black shows off some truly powerful vocals and utilizes a number of styles to change the mood of several songs.
Black's vocal range is truly terrifying. He can softly croon then scream over a guitar and it all sounds beautiful. Plus, JB's classic vocal fills are back in full force.
Kyle Gass provides his delightful harmonies and adds tasty guitar while Dave Grohl's drumming is top-notch throughout.
All in all, it makes for a well-rounded, wholly inappropriate album that will more than please any fan of the group.
At this point there's simply no denying it, Tenacious D really is the greatest band in the world.